Stationary Engines
---
Hart-Parr 20 and 24 hp power unit serial numbers
1921 to 1922 20 h.p.
1923 to 1940 24 h.p.
60001-60011
60012-60133
---
Hart-Parr 30 and 36 hp power unit serial numbers
1923 to 1926 30 h.p.
1927 to 1936 36 h.p.
55001-55077
55078-55330
---
Hart-Parr 40 and 50 hp power unit serial numbers
1924 to 1926 40 h.p.
1927 to 1942 50 h.p.
80001-80050
80051-80385
Several serial number lists exist, these are as accurate as possible.
Thanks to Doug Strawser for doing the research for this serial number list.
---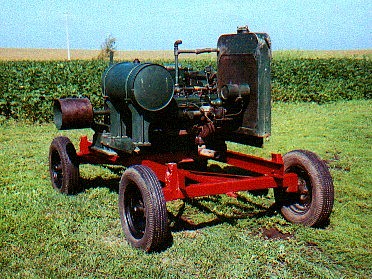 Hart-Parr developed stationary engines very early in their history. It all started in 1896 with the two men designing and building their own oil cooled engine and using it for a power unit. Eventually these power units were adapted to use in a tractor. Power units were built in various sizes and for the most part was the same engine used in the tractors they were manufacturing.

Starting in 1921 Hart-Parr began offering their new water cooled stationary engines.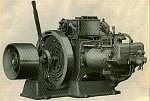 These engines corresponded with the model tractor they were manufacturing. It began with the "20" h.p. unit, "30", "40", then the "24", "36", and "50" h.p. unit. These power units were designed to operate off an existing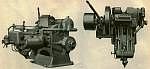 water supply for cooling or you could buy a complete package with a radiator. These engines were used on a wide variety of jobs, from pumping water, running line shafts, in grain elevators, sawmills, operating generators, etc. The engines were mounted on a heavy cast iron base which in turn could be bolted down to a concrete floor or timbers. A new "30" h.p. unit complete with radiator sold new in 1926 for $875, a "40" h.p. unit sold for $1325.

Another interesting item they used these engines for was air compressors.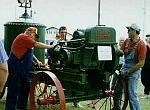 Hart-Parr joined forces with the Buhl Company of Chicago to build air compressors. A two cylinder power unit was supplied and one cylinder was used to pump air and the other cylinder was used for the power source, so in escence you had a one cylinder power unit. The Buhl Hart-Parr air compressor is owned by the Buice Family Collection of Waco, Texas. Click on the photo for larger image.
Check out a few more stationary engine photos here
---
© 2002 dp