Hart-Parr
"30"
---
Hart-Parr 30A serial numbers
1919
1920
1921
1922
9383-13017
13018-14198 and 15550-18474
18475-18841
18842-19125
---
Hart-Parr 30C serial numbers
1922
1923
1924
21001-21392
21393-21864
21865-22300
Several serial number lists exist, these are as accurate as possible.
---
Hart-Parr "30"A
The Hart-Parr"30"A is very similar to the New Hart-Parr in respect to the honey comb radiator, the open bull gears, and the open valve cage and rocker arms.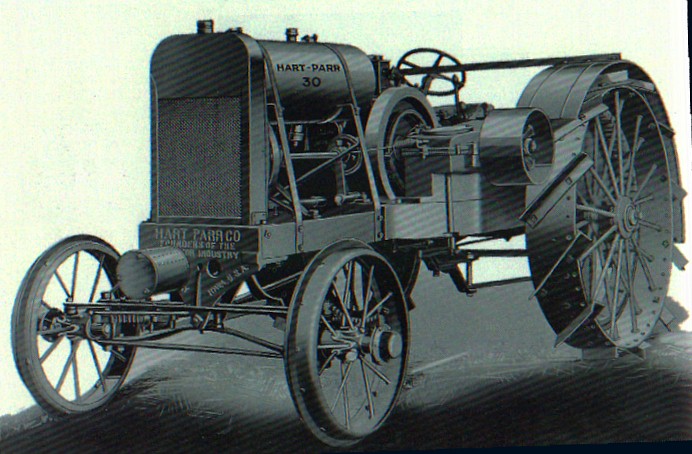 The most noticeable cosmetic difference is the front casting just below the radiator. The wording New Hart-Parr was removed and Hart-Parr Co. Founders of the Tractor Industry, Charles City, Iowa, USA. was added in its place. See front casting here. This was the first tractor to be tested at the Nebraska Tests for the Hart-Parr Company in 1920. The Hart-Parr"30"A performed very well in the tests and was on top of the list for all other brands of tractors in its horse power range. From this test on the Hart-Parr tractors sold well and the reputation from this test carried on throughout the later models.
The engine and all other specifications remained the same as the late model New Hart-Parr tractors.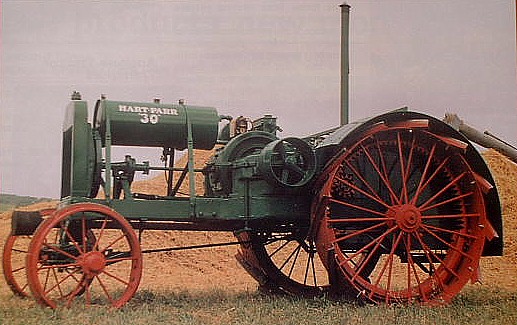 One interesting thing about the New Hart Parr and the Hart-Parr"30"A tractors is the friction driven fanshaft off of the engine flywheel. In turn the water pump is mounted on the fanshaft, so by doing this one power source is used to do two things. To see the friction drive and water pump click here.


A nice 1919 Hart-Parr"30" owned by Pat O'Hara from North Bend, Nebraska. Photo courtesy of Antique Power Magazine.
---
Hart-Parr "30"C
The 15-30C is the same tractor as the 15-30A with the exception of a few improvements. The frame of the tractor was now made of two pieces of channel iron instead of the cast steel as used on the 15-30A.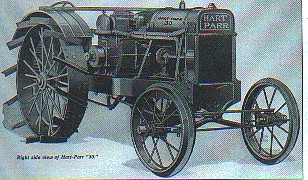 The basic engine remained the same, however, the push rods and rocker arms were now enclosed to keep the dust and dirt out. The water pump was relocated to the top of the crankcase and the radiator now used cast iron top and bottom tanks with name HART-PARR prominently cast into the top tank. The gear shift quandrant was moved from the frame to the top of the transmission case. The two forward speeds remained the same. The fenders were shorter as were first introduced on the late 15-30A tractors and only came half way down to the platform. The one thing that remained the same as the 15-30A is the open bull gears in the rear wheels. Advertisements for the 15-30A and C emphasized its operator comfort with a large platform and easy to reach controls.
---
© 2002 dp