18-27 Row Crop Tractors
Just scroll down for more photos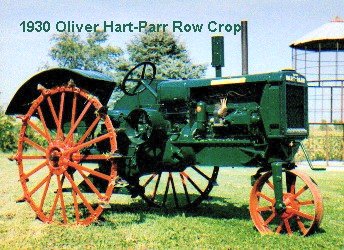 The serial number of this tractor is 100328 and was built on April 7, 1930 in Charles City, Iowa. Notice the "Tip Toe" steel wheels with a mud scraper behind the front wheel. Also the large Hart-Parr and small Oliver on front of the radiator.
---
This shows the left side of the tractor with the cast iron air cleaner cover.
---
This shows the cast iron air cleaner cover which has dissappeared from many of these early row crop tractors. This view also shows the choke wire position and the hood decal used on the first models.
---
This is a 1935 Row Crop serial number 105340. It is basically the same as the single wheel models except for the dual front wheels, the individual turning brakes, and an oil bath air cleaner. You will also notice the rear wheels have an extra reinforcing ring positioned half way between the hub and the outer band.
---
© 2002 dp