1903 3 hp. Hart-Parr
Inverted Engine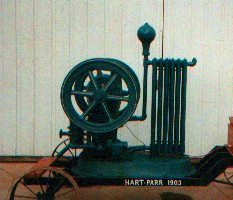 The first product produced by Hart-Parr was the inverted vertical engine. Among its features was the unique cooling system which used oil as a coolant to prevent freezing during the winter. A common household radiator was used on these engines.

This 1903 Hart-Parr engine was purchased from an elderly gentleman in Northwood, Iowa. His father puchased the engine new in 1903. After the father's death, his son kept and maintained the engine at its original site. The engine was used to grind feed, saw wood, wash clothes, and pump water.

The present owner, Mike Shanks of Nora Springs, Iowa, added the trucks to make the engine portable. The engine has appeared at many area threshing shows.
© 2002 dp